VOTED TOP CLINIC IN EAST TORONTO &
PICKERING BY READER'S CHOICE, TOP
CHOICE AND CONSUMER EXCELLENCE
AWARDS!
Thank you for recognizing us!
*The College of Physiotherapists of Ontario does not permit the use of testimonials/ratings/reviews on websites or extensions of websites including Facebook pages that are operated by or on behalf of the clinic.
PICKERING PHYSIOTHERAPY INSTITUTE
Our Pickering physiotherapy, chiropractic and massage therapy clinic offers a wide range of both traditional and natural treatments.
97% of our patients surveyed rated us good or excellent on a 5-point rating scale. If you are not sure, why not try a 15-minute free case assessment.
WHY CHOOSE OUR SCARBOROUGH / PICKERING CLINIC?
GET READY TO FEEL AND LOOK YOUR BEST!
It starts with your free consultation.
WE DIRECT BOLL MOST INSURANCE
PLAN
OUR CLINIC PROGRAMS ARE SUPERVISED BY A TEAM OF EXPERT HEALTHCARE PROFESSIONALS.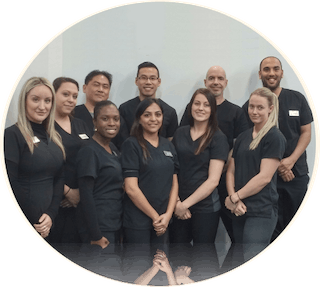 So, Its been five weeks to the day since I started my crazy extremally insane diet. I weighed 172.8 ibs when it all begins and my blood pressure was 206/115 after i had stroke. Today, Before I saw my dietitian i had my weight in and the goal was to be at 155ibs.Remeber this diet started at the beginning of Xmas Break. I now weigh 152.5 ibs but my blood pressure is now at 45/55.so i now have to make a doctor's appointment to reduce my medication. i can live with that. i still have some weight to lose but i haven't been155 ibs in 25 years. Thankyou Dr Kwaong and thank you Charandeep
So, Its been five weeks to the day since I started my crazy extremally insane diet. I weighed 172.8 ibs when it all begins and my blood pressure was 206/115 after i had stroke. Today, Before I saw my dietitian i had my weight in and the goal was to be at 155ibs.Remeber this diet started at the beginning of Xmas Break. I now weigh 152.5 ibs but my blood pressure is now at 45/55.so i now have to make a doctor's appointment to reduce my medication. i can live with that. i still have some weight to lose but i haven't been155 ibs in 25 years. Thankyou Dr Kwaong and thank you Charandeep